Post by sil on Sept 5, 2012 23:32:27 GMT -5
[atrb=cellSpacing,0,true][atrb=cellPadding,0,false][atrb=border,0,true]

[atrb=width,350,true][atrb=background,http://i56.photobucket.com/albums/g171/Sillvy/Dbg.png]
Diesel yanked the squirming, caterwauling young tom back a few faces. He stopped when he noticed Sledder hadn't taken the hint and brought the she-cat away as well. Frustration bubbling, the Raider was about to snap at him to hurry up when he caught the telltale indications in Ismo's posture. He was going to make a move.

Diesel turned his head and was met with a face-full of grit and sand. Swearing into the fox-colored tom's scruff, he scrubbed at his eye with a paw. One of his eyes was already less than perfect from an old injury, and he couldn't afford losing vision in the other. Through stinging, watery eyes, Diesel watched Ismo pounce on the Fledgling. He cursed his luck. He knew he would have to leave that buffoon behind. Swiftly pinning Star with his paws to free his jaws a moment, he growled out, "Hold him off, you mouse-brained fool!"

He hadn't intended on leaving Sledder, but it was his own blasted fault if he got himself killed. The runt had a snake-like ability to slither out of much worse fights alive. His bleeding, silvery-blue frame was thrown hardly a tail-length away. Part carrying, mostly lugging his captive away, Diesel retreated back into the forest, really moving now. Ismo's swipes met only empty air.

The beige tom was going to regret his actions.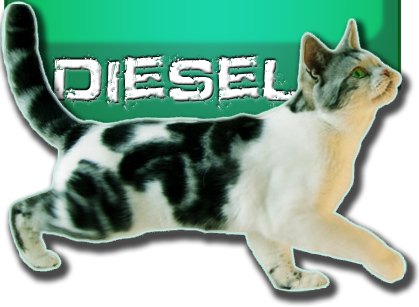 [atrb=cellSpacing,0,true][atrb=cellPadding,0,false][atrb=border,0,true]
[atrb=width,350,true][atrb=background,http://i56.photobucket.com/albums/g171/Sillvy/Qbg1.png]
Quinn couldn't see what was going on with Ismo; she forced herself to remain focused on Star, trying to convey her emotions through her eyes. Try to be calm. Sledder's weight made it hard to breathe and impossible to part her jaws. Her earlier resistance had cost her, and she could now feel her life steadily leaving her, dripping down her fur and pooling around her.

Ismo's voice reached her. She could hear his conviction, and she willed him the strength to save them.

Feeling the weight being thrown off her, Quinn forced herself onto shaky paws. She gasped and trembled with the effort, the corners of her vision bleeding back and red with nausea. She couldn't move. Star's cries, calling their names, crying for their help, were sharper than any claws. Grief overwhelming her, Quinn sought out his gaze. "Stay strong, Star!" she yelled with her remaining strength. "Don't forget who you are! We will find you, no matter where they take you!" She stumbled when she felt her consciousness ebb. Her legs finally gave out from under her and she collapsed to the ground. Huffing erratically, blood loss and pain finally pulled at her, forcing her eyes shut. The Snowshoe she-cat would bleed out soon if her injuries weren't tended to.

Her last sight before blacking out was Ismo tussling with the silver tabby and little Star being hauled away into the shadows…

Ismo…