Post by Kiki on Sept 4, 2011 12:17:48 GMT -5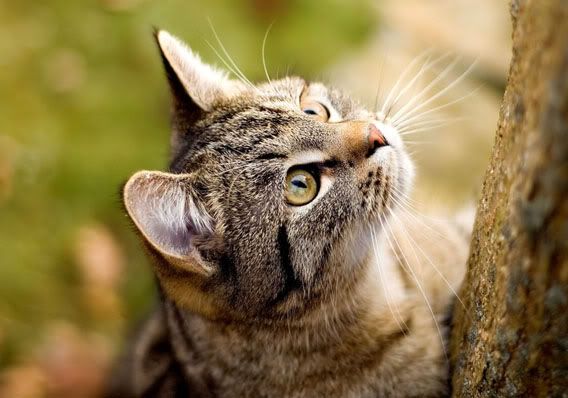 ~Amberheart~



The tall pine forest blanketed the side of the mountain, a deep evergreen sea in the glowing greenleaf sun. From afar the forest seemed abandoned and silent, but it reality it was teaming with life. Among the branches grey squirrels chattered and barked, on the search for more food. Birds cooed over their young, tiny and defenseless. And low down by the ground, a cat stalked through the grass.

Amberheart was crawling slowly, each of her lean muscles moving in harmony to move her silently along. She placed each paw carefully, avoiding twigs that would snap and blow her cover. Up in the brush ahead of her a vole was nibbling on some seeds. The tiny creature was unaware of how soon it's life was about to end for it was quite absorbed in what it was eating. Amberheart slowed her pace even more, to the point were it barely seemed she was moving at all. She was less then a fox-length away from the tiny creature, now was her chance. Bunching up her strong haunch muscles she launched herself into the air. She was suspended there only for a moment before her paws came down upon the vole and it was dead. She felt pleased with her kill, and was going to put it right into the fresh-kill pile when she got to camp. Caring her catch she trotted over to a patch of up-turned earth, where she collected her previous kills. All in all she caught two thrush, three voles, and a squirrel.

Amberheart entered the camp, her prey dangling from her jaws. She could feel her stomach turning in hunger. It was so very tempting to eat what was in her mouth. "Prey like this should be saved for the queens, elders, and senior warriors," she thought, "I'll just take a mouse." She picked up one thrush from the pile and sat down. It was only a moment before the thrush was gone, and her stomach seemed more empty then ever. She frowned slightly. "I can't have people seeing me take two things from the fresh-kill pile, they'll think im greedy."

Amberheart's mind didn't dwell on her hunger pains for to long, soon she was day-dreaming in the sun. It wasn't easy to find direct sunlight in the dense pine forest but Amberheart knew a spot that would get quite warm and comfy. She was sitting there now actually, waiting for her clanmates to emerge.




[atrb=border,0, true][atrb=width,330,true][atrb=cellSpacing,0,true][atrb=cellPadding,0,true][bg=796750]